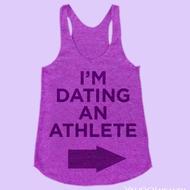 The first time I knew I wanted to date my now-fiancé Ross was when I saw him out for a run. We'd known each other since we were kids, but it wasn't until I was a senior in high school — and saw him sprinting past me — that I realized the boy from second grade had grown up.
We started dating, and so began our journey of growing up together and weaving our individual passions and interests. One big one in particular: Ross' athletic prowess and commitment to running. He ran varsity track and cross country at New York University while I studied journalism in Boston — so with his daily practices and meets on the weekends, we quickly had to learn how to compromise and support each other.
While I'm active enough — I do frequent the gym! — our athletic capabilities have never been on an equal plane. In other words, sports were always going to be his thing.
Eleven years later, we're still together and Ross is now a competitive triathlete. We no longer have to navigate the Boston-to-New-York long-distance situation, but we now are learning to navigate his twice-a-day training schedule as he prepares for the USA Triathlon National Championships.
Throughout our relationship, and especially now that Ross is in the thick of training, there are some realities I've come to realize from dating someone passionate about fitness. Here are five of them:
1. You will become an early bird.
In order to get any sort of decent training in, especially with a full-time job, Ross must get his first workout in at sunrise (or before the sun comes up, in the wintertime). Because we live in a studio apartment, this also means that 6 a.m. is my wake-up time. And on race days, we can be out the door as early as 4:30 a.m. to make it to a meet on time.
I'd never considered myself a morning person, up until a few years ago when I started waking up early per Ross' schedule. Now, sleeping in until 8 a.m. is a dream, and going to bed after 11 p.m. is a rarity. It may seem miserable, but this newfound sleep pattern is actually a blessing — we can be out exploring the city together before everyone else is awake. It makes us feel like we have the whole day ahead of us.
2. Your partner constantly needs ALL THE FOOD.
Athletes may not have a child growing inside of them, but with the amount they eat and how often their muscles are sore, you might as well be living with a pregnant woman. Since Ross can burn 3,000 calories in a bike ride alone, that means he must consume enough to not get burned out. Unfortunately for me, that means helping him satisfy his cravings for ice cream, giant steaks, and the like. With all of this food in the apartment (or ordered when we dine out), I've had to learn how to eat without being tempted by all the calorific goodies. Admittedly, it can be hard at times — but I've also learned that food is fuel and can do great things for our bodies.
3. Date night = working out together.
Sure, we have normal date nights, but with Ross' busy schedule, there's not a whole lot of time left over for "us" time. While I'd love to think I could keep up with my fiancé on a bike ride or a run, it simply won't happen. But we've found ways to spend time together at the gym for the occasional spin class or side-by-side on the treadmill when the weather is bad. Though we don't engage in deep conversations during that time, it's meaningful to be pushing ourselves in our own way together. We both walk away having completed a physical goal, and research shows working out with your beau can actually strengthen your partnership.
4. Your S.O. will always have more "stuff" than you.
Participating in three sports equals lots of stuff. In our time together, I've learned the difference between a road bike, a mountain bike, a time trial bike, and a fixed-gear bike, as well as the many different layers of clothing required for each activity. Did you know there's such a thing as an at-home altitude tent? (Well now you do, and you're welcome.)
While I've created a two-bike limit in our apartment, I'm always amazed at the number of new high-tech gadgets that purport to help you go faster and clock that P.R. Sure, I get excited when I buy a new pair of workout pants, but I've realized that Ross' gear is much more of a necessity than mine is — and must therefore be factored into our closet space. I've fully accepted Ross will always have more shoes than me and the linen closet is also the bike, wetsuit, helmet and extra wheels closet. (The bonus of it all is that I have an endless list of presents to buy him.)
5. A vacation is never complete without a visit (or few) to the hotel gym.
Just because you go on vacation doesn't mean the training can stop. To keep the momentum going, time for running, swimming, and biking is always factored into our vacation plans. Is there a gym? Is there a pool? Is it safe to run? While the answer isn't always "yes" for each question, it certainly becomes a major consideration when planning out our destinations.
As a couple who loves to travel, making exercise part of our plans has actually led to some pretty amazing experiences. We've found delicious hole-in the-wall places because of a run around a city and some hidden beaches after speaking to locals about the best places to swim.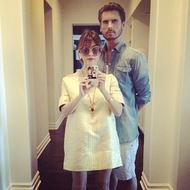 It is our instinct to blame the media for our poor perceptions of reality and the ways in which we compare ourselves to idealistic standards. At one time, that all may have been true. It may have been the airbrushed models in magazines and the seemingly flawless lifestyles of celebrities that made us feel like boring little trolls in comparison. However, we are now our own worst enemies because of the way we've distorted and manipulated our social media presentations.
We're creating a culture of self-comparison that did not previously exist. Not only that, but we compare ourselves to false images, just as altered as those of the airbrushed models.
Here are only a few of the many images on social media that just aren't real.
1. Appearance.
OK, somewhere between the addition of filters and the "teeth whitening tool" we became masters at making ourselves look absolutely nothing like ourselves. I understand the reasoning. Trust me, I went through a stage of causing every self-edited image of myself to look like a blurry Oompa-Loompas with fluorescent teeth. The common thought is this: "If I can erase all of my blemishes and make myself look virtually perfect, then why wouldn't I?" Because it's not you -- and when you see others looking like that on social media, it's not them, either. We are human beings. We are meant to look unique and incredible in our own ways. We aren't blurry Oompa-Loompas with fluorescent teeth.
2. Relationships.
No one is going to Instagram a photo of the knock-down-drag-out brawl that erupted with their significant other over which selfish jerk ate the last of the crunch berries. No one is "Man Crush Mondaying" their boyfriend on his phone drunk-texting other women at a low point in their relationship. We all get online and feel like every other couple must have a blissful relationship filled with big smiles and roses hand-delivered to their desks at work. Come on now. Do you know how much roses cost?
3. Partying.
I can't tell you how many people I hear complaining about how fantastic and fun other people's lives look on social media. "They go out and party all the time! Why can't I be fun like that?" OK, allow me to let you in on a little secret: it's never nearly as glamorous as it looks. You're going to see the beginning photos of party dresses and hair still intact, with pretty people and "candid" laughter. You aren't going to see the photos from the end of the night, with smeared-mascara faces and sweaty hair. You aren't going to see drunken drama, embarrassingly high bar tabs or someone crying into a toilet about the person they broke up with three years ago.
4. Traveling.
Traveling is incredible, and I am more than guilty of radiating envy as I scroll through photos of people on trips I could never afford. However, again, we show the photos that make perfection appear to be reality, and then wonder why our trips don't fall together seamlessly. They don't. I've flown across the country and lost my luggage -- and then my wallet, too. I was a mess. Maybe I should have Instagrammed a photo of me in my free extra-large T-shirt from the airline, crying on the phone to Pam from the credit card company. Nah, how about a gloriously filtered photo of me standing in a beautiful cove, lit by the sunset in the mountains of Washington, instead.
5. Food.
It's food. It's not really supposed to be pretty. You literally look at it for 10 seconds (depending upon how long you have been waiting for it -- the longer that is, the more rapidly the time decreases), and then you stuff it in your mouth. You chew it up and that's that. Unless you're a chef or a cake decorator, odds are your food is going to look pretty lame. If you do make it look good, you almost always have to arrange and filter the heck out of it to do so. So, stop judging your dinner place based on the extravagant displays of social media.
6. Diet.
This is much different than food, as it pertains directly to people only posting photos of healthy food for specific reasons. Most of your peers are still eating far more than colorful protein shakes and Greek yogurt covered in fresh berries. We all want others to perceive us well, and health has become a large part of our culture in that regard. That being said, you aren't the only one who can't just switch to a strict diet. You also aren't the only one who can't afford a perpetual stock of fruits and vegetables. When strawberries are on sale at the discount grocery store, it's like Christmas at my apartment.
Besides, I bet Greek-yogurt-girl likes oatmeal cream pies, too.
7. Fitness.
I simply cannot scroll through my social media accounts without seeing a photo of someone that is somehow related to their fitness regime. On seeing pictures like this, the following thought seems to pop into the heads of the masses: "Why am I not as motivated or confident in my body as this person is?" First of all, I think anyone who is really and truly confident in their appearance wouldn't need to continuously gain the approval of others via social media by vigorous narration of their body's physical activity. They're just like you, so support them -- don't envy them or cut them down. Second of all, comparing your fitness lifestyle to others' isn't fair to you or them. We all have different bodies, lives and priorities, and no one is going to display the worst of that for the world to see.
8. Babies and pets.
It's quite possible that my favorite part of social media centers on the existence of babies and pets. They're so freaking cute. More animals appear in my "Discover" tab than human beings. All cuteness aside, everyone else has babies and pets that can be just as intolerable as yours. My cat is an adorable supermodel online. In real life, he's a furry little tyrant who rips through bags of cat food stored on the top shelf and purposefully pushes wine glasses off the counter to their imminent destruction. Please don't stop posting photos of your precious little life forms for the sake of me and all of your other fans. Just keep in mind that you aren't the only one who has a baby that screams and a puppy that poops everywhere. We all do.
9. Coolness.
Social media is dorky. No matter how long you take to sit around and think of a witty but seemingly effortless caption, the fact that you did that in itself is dorky enough. We all look ridiculous online. There's really no way around it, and as much as you try to mimic the tone or style of others to adhere to whatever new "cool" standards there are, it's all a load of crap anyway.
10. Clothing.
No one is breaking out the "fat pants" for a selfie. You're going to see people at their best, wearing their new clothes and showing off the one photo they liked the most after they took like 50 beforehand. Don't sweat it, unless you're talking about the big gray sweatpants that people would actually be wearing in truthful wardrobe representations, in which case I say sweat it all the way.
11. Perfection.
Essentially, we are all professionals at making reality look like an elaborate photo story of the sheer perfection that composes our lives. But it isn't real. Social media is harmless if we are careful to remember that simple fact. It's powerless if we neglect the inclination to compare and criticize our own lives through the falsified images we too are guilty of creating. Our lives are messy. We get into stupid fights, spill coffee all over our new shirts and drink too much tequila at a Tuesday night taco dinner with our friends. That's the way it's supposed to be. We aren't the people we pretend to be online, and thank God for that.
Maybe it's time we throw a little reality back into social media. Otherwise, we're going to have to start changing that witty tagline to something more fitting.
"This is a parody account, and is in no way associated with the real person it depicts."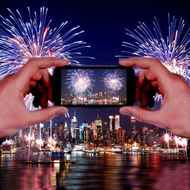 Firework photography is like the fish that got away. Every summer (or New Year's Eve), you think you've finally mastered your smartphone camera chops to snap a magnificent cascade of falling sparks, only to be left with a camera roll full of blurs.
But this year, with just a little advance planning, maybe you'll finally reel in the big one, whether it's a golden horsetail, a fiery chrysanthemum, or a sparkling peony. (Those are all firework effects, not fish names.)
Here's how to take great fireworks photos with just your smartphone:
1. Turn off the flash
Your smartphone will automatically turn the flash on, because — in case you didn't notice — you're standing there in the dark. Don't let that happen.
"The flash is only going to illuminate things that are within five to 10 feet of you," says Tony Northrup, a Waterford, Conn.-based photographer and author of How to Create Stunning Digital Photography. "Maybe you actually want to light people up in the foreground, but if you do that, it's going to under-expose the shot . . . the fireworks will end up too dark."
So, in that case, try to get their faces lit with a light that's behind you (and most importantly, the camera).
2: Turn off the HDR
HDR, or high dynamic range, seems like it would be a good idea for capturing fireworks' rich color. But in this instance, it's going to trip up your shot, says Northrup. A way to shoot photos using multiple exposures that helps to reduce contrast (and dark, night shots are full of contrast) HDR is bad for fireworks because they're a moving, morphing subject. As a result, when the camera captures the multiple exposures to blend the fireworks together into one HDR image, they won't match up. So, like the flash, be sure to turn this setting off.
3: Create a long exposure
The longer your shutter is open, the more light gets exposed to the photo sensor. Applying that to fireworks, Northrup likes to create an exposure for as long as five to 10 seconds, timing the shot by starting right before the incendiary explodes. With a pro-level camera, this is easy to do, but the default app on your smartphone may not provide these kinds of controls.
Third party apps, like the free A Better Camera for Android and the $.99 Manual on iOS, can give you these capabilities with a minimal learning curve. Still, I recommend buying one at least a day before fireworks time, because they can take some getting used to. And having a tripod is pretty much essential for long exposure photography, too.
4: Shoot more than just the sky
If you want a great photo of some fireworks, Google Image Search can set you up with one. So run a query and dazzle your friends with the kind of shot you could never capture (because, frankly, you didn't). But if you really want to photograph the bursts before your eyes, shoot more than just the sky. Northrup suggests photographers try telling a story with their shots.
"You could crouch down behind your kid and shoot the back and side of their face, as they're looking at the fireworks," he says. "There's a bit of story — here's a kid looking at fireworks — and that's a hundred times more interesting than just a firework."
7. Use a selfie stick
What was that incredible boom? No, it wasn't an M-80 exploding in the sky — it was people's heads exploding at the thought of a professional photographer recommending one of the worst gadgets of the year.
"I know people revile these things, but I actually like them," says Northrup. In fairness, he recommends that people use a selfie stick to take unexpected shots, like getting a good angle over a crowd. He also suggests using the selfie stick as a monopod — a one-legged tripod — to help steady your shot. This is important when shooting in low-light situations, because the more you move the phone while the shutter is open, the blurrier the image will be.
6: Edit your shot
No one takes a perfect shot from the get-go, not even the pros. Northrup himself does a bit of editing to his smartphone photos to make them look better. For fireworks, he recommends reducing the contrast and making the shadows brighter. If that washes the color out, adjust the saturation slightly, but not too much. And, of course, crop the photo for maximum effect. All these things can be done with the Android and iOS photo software, but if you want to get more hands on with your picture, try Snapseed, a free photo editing app available on Android and iOS.
Bonus tip: Shoot video instead
It might seem counterintuitive to shoot video when you're really looking to wow people with a photograph, but if you're posting your pics on Twitter or Facebook, your media will stand out more if it's moving. Facebook and Twitter now offer automatically playing movies, so a short five to 10 second clip of some falling fireworks would be perfect for the social networks. Also, you can also pull a frame out of the movie file to make a still photo, if you decide you'd like one of those instead. After all, fireworks all about the grand finale — and by that I mean how many likes and re-tweets you get.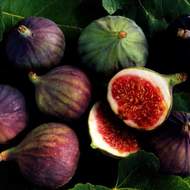 We're officially into summer, which means the produce department is looking plentiful. "It depends on where you are and what your climate is, but July is a great month," says Deborah Madison, author of Vegetable Literacy. While some farmer's markets will have different offerings compared to others, keep your eyes out for some of these fruits and veggies.
1. Figs: "There's the early crop of figs this year, and there will be a second crop at the end of August," says Madison, who lives in New Mexico. Just rinse your figs and trim the stems before eating.
2. Cherries: Madison says farmer's market shoppers will likely continue seeing cherries brought to market, though the types of cherries may change as the season goes on. We are smack in the middle of both the tart and sweet cherry season now, so there's no better time to pick up a pint.
3. Peas: Keep an eye out for the bright green pea pods. Peas taste their best in the summer, and according to Vegetable Literacy, if you live in higher altitudes, peas can be enjoyed all summer long. Snap peas taste their best when they are moist. When they start to dry, they can taste more starchy.
4. Peaches: If you can smell peaches, they're ripe. While peach season can peak in states at different times, you're definitely going to see some especially juicy ones in July. Peaches should be firm and without bruises on the outside.
5. Rhubarb: This vegetable is hearty since it comes from places with tough climates like China, Mongolia and Russia. Rhubarb can begin to appear in the Spring, but it can have a long summer season in some states. Remember to only eat the stalks and not the leaves, which are poisonous. Most of us enjoy rhubarb in our pie, but it can be good as a jam or can be eaten like applesauce.