With all the emphasis on buying for family and friends during the holidays, the idea of tipping people who provide services to you may not be top of mind.
But don't worry, we've got you covered.
Diane Gottsman, the owner of The Protocol School of Texas, offers a holiday tipping guide for whom to tip and how much to give this holiday season. From your apartment doorman ($20) to your babysitter (one night's pay), Gottsman said the guide offers suggestions — not hard-and-fast rules.
"You're going to give what's comfortable with you and what's in your budget," she said.
Generally, you should give an extra holiday tip to people who rely on tips throughout the year and who you see regularly during the year, Gottsman said.
"They have treated you loyally. They have given you good service and you would enjoy receiving future service with them," she said.
Here are some of the people to consider giving a holiday tip to:
1) Barista
A $10-20 tip for each barista you see every morning, who knows your name and has your drink ready before you even order it.
2) Mail carrier
Government regulations do not allow U.S. Postal Service workers to receive cash gifts. A non-monetary gift under $20 is appropriate. FedEx drivers can receive tips and gifts, but they should not exceed $75. UPS prefers its drivers to receive gifts, rather than cash, but leaves it to the customer's discretion.
3) Dog walker
A cash gift of one day to one week's pay.
4) Newspaper delivery person
A cash gift of $10-$30.
5) Housekeeper
A cash gift of one week's pay. A 2012 holiday tipping survey by Consumer Reports found 64% of Americans who use house cleaners tipped them for the holidays with a median of a $50 holiday tip.
6) Building handyman
A cash gift of $20-$50, if you see them on a regular basis.
7) Nursing home workers
If you have an elderly relative in a nursing home, consider bringing a tray of cookies for the entire staff. Because there is more than one shift, bring a tray for each shift.
8) School bus driver
A $10-$20 gift card. If cash gifts are not allowed under the company policy, a nice gift is a pair of driving gloves.
9) Hair stylist, manicurist, personal trainer, massage therapist
A cash gift equal to one visit.
10) Pool cleaner, lawn maintenance worker
A cash gift equal to one week's pay.
There are some people you should not tip, including doctors, dentists, accountants or anyone who is a salaried employee, Gottsman said. It would be appropriate to give them a small gift, like a tin of cookies, if you happen to see them in December, she said.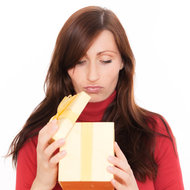 We've all suffered through that awkward silence at least once, the one that comes right after someone opens the holiday gift that you selected—and that's somehow not quite right. In fact, it's a horrible gift. It's inappropriate, thoughtless, silly, or otherwise ill-considered.
Depending on the manners of the recipient, the reaction to the presentation of such a gift might be a forced squeal of delight, an overly broad, stiff smile, or a quick, flat "thank you" tinged with a touch of confusion. Or something far worse. But there's no getting around the fact that, as far as presents go, this one has been deemed pretty awful.
How could this have happened, you wonder? You're usually such a thoughtful gift-giver. It's not that you don't like the recipient, nor that you were trying to make a statement or cheap out—among the disturbing psychological motivations for presents that wind up on the Worst Gifts Ever Awards list that I've chronicled in previous years. Still, even the most seasoned, well-intentioned shoppers make mistakes. After talking with scores of recipients about why some gifts are awful, a handful of explanations surfaced repeatedly.
So that you can avoid developing a reputation as a bad gift-giver, here are the top five reasons why regrettable presents are purchased.
1. The "This Will Make a Nice Gift" Gift
Leslie purchased three elegant carving sets (the kind you use to carve a roast or turkey) at an online auction because she thought they "would make nice gifts" for someone. "They were like 80% off, and I guess I wasn't thinking about who exactly they would make nice gifts for because everyone I gave them to seemed confused," she recalled. "In retrospect they were right. I wasn't thinking about the person I'd be giving them to, just that they were beautiful—and that I could give an expensive sort of gift for not much money."
If you find yourself considering a purchase but you don't have a recipient in mind, think about Leslie. Then think again and reconsider making the purchase. The best gifts are purchased with a specific recipient in mind. Very rarely does it work out that someone buys a gift and later finds the perfect person to give it to.
2. The "How Old is He Again?" Gift
Many people see relatives only during the holidays, or even less frequently than that. It's easy to think of people as who they were the last time we saw them, rather than realize who they are right now. Which is basically Maryanne's explanation for why she gave her 14-year-old step-niece sparkly barrettes and a butterfly wand for Christmas last year. "I was shocked when I saw her, she was so grown-up all of a sudden!" Maryanne said. "Needless to say, she hated the little girl gifts."
This kind of mistake can be made not just because of age-related snafus, but also by givers failing to notice changes in life stages, looks, interests, and hobbies. A man named Joe told me that he finds it odd—and a bit annoying—that he still gets a tie every year from one of his sons even though he's been retired for years: "I've got a closet full of ties and it no place to wear them."
3. The "All Hat, No Cattle" Gift (and Vice Versa)
Wrapping makes a statement. For some reason, Janine decided to use an old Tiffany box to hold an ornament she'd purchased for her sister. "You should have seen her face, actually both of them," Janine remembered. "The one she had when she saw the Tiffany box—all excited. And then the one she had when she opened the box—not good."
I think the sister would have liked the ornament a lot more if the blue box presentation didn't make her think it was going to be something else. On the other hand, Ray slipped a diamond ring in the bowl of a mixer, wrapped the whole thing up and gave it to his wife for Christmas. "She was so mad about that mixer, she'd told me not to get her any more cooking equipment, and then she was embarrassed about getting mad when she saw the ring. I don't know what I was thinking," Ray said. "It really wasn't the joyful opening I'd hoped it would be."
The solution isn't to skip the wrapping and creativity. It's to be aware of managing expectations to maximize the pleasure of the gift. And remember surprises aren't necessarily good.
4. The "Procrastinator's Special" Gift
Procrastinators usually do so for one of two reasons: They're mulling among two or more options and it's taking a while; or they are really unclear on what to do, where to go and how to pick so they drag their feet, knowing that if they make a mistake they can blame it on time constraints. Procrastinators can make inspired gift choices — but the odds are against them.
Pamela is married to a procrastinator. "My husband got me really fabulous shoes, but in the wrong size with a note saying that I should exchange them for the right size," she said. "When I tried to exchange them were sold out, which was also the case when he bought them — probably on Christmas Eve."
5. The "The Impulsively Purchased Extravagance" Gift
When do we purchase impulsively? When we're wowed. In today's marketplace, dominated as it is with dramatic Black Friday discounts and big markdowns throughout the holidays, that "wow" is more likely to come after we see a special price rather than a special product. Shoppers can easily get blindsided by a tempting price, not to mention the idea that they'll be able to give a seemingly extravagant gift that's still within their budget.
That's the gist of how Megan ended up giving her mother a dry-clean-only cashmere robe for Christmas last year. "It was elegant, and even though it was almost twice as expensive as the plush robe she'd asked for, I was thrilled to give it to her. Until I saw her face," said Megan. "She had this 'Did I raise a crazy daughter?' look on her face, and in that instant I realized what a mistake I'd made. Unfortunately, I got it at an outlet mall. I couldn't return it so it lives on to remind me to stick with the list."
Which is good advice for everyone.
,

Did you miss YES-FM Entertainment News at 6:45? Watch it on our
YouTube Channel
! Click above to listen!