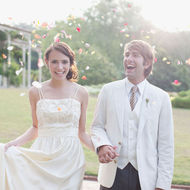 I'm only a year into this marriage thing, so I'm hardly an expert, but let me tell you, what a year this has been. We all learn from the hard stuff, and in my life, marriage tops the "hard stuff" list.
The night before I got married, I was ecstatic about marrying the love of my life. Like most brides, I had no idea what I was in store for but I didn't care.
If I could go back to that night and share some wisdom with myself about marriage, there's so much I would say. But I don't want to overwhelm you, so I boiled it down to these six most important things:
1. You better learn how to apologize.
I had NO clue how bad I am at apologizing until I got married. Man, I suck at saying sorry. As a recovering perfectionist, admitting my mistakes drives me absolutely bonkers. Sometimes I have to mouth the words "I'm sorry" a few times before I can actually get them out.
But you must learn to get the words out. Marriage doesn't work very well when one spouse sucks at apologizing. Trust me. Instead of solving problems together, you'll waste all your time arguing about who was right or wrong. I'd send my single self this article on how to apologize if I could.
2. Marriage is a decision, not an accomplishment.
I believe marriage is absolutely cause for celebration, but nowadays it seems more like a rite of passage that many people covet. Don't get me wrong: I remember the days when I would watch Say Yes to the Dress and flip through engagement photos on Facebook, wondering when my turn would come. This is normal single-girl behavior when kept in check. But in the midst of all my pining and drooling, I started to view marriage as an item to cross off my to-do list, rather than the risky, serious, and beautiful decision that it is.
Here's what we should be celebrating: staying happily married for five years...10 years...15...20. When we make it to any of those milestones, bake us a cake or throw us a party. Until then, we haven't really accomplished our goal. So I find it best to view marriage as an ongoing decision. A daily one.
3. It's not all about comfort or security.
Marriage provides many comfortable moments. Giggling together after farting in bed is not something I do in the presence of most folks. There are times when my husband and I share feelings of closeness that feel so amazing, I want to wrap myself in them like a blanket.
I married my husband eager for that exact feeling of unending security that I was sure marriage would give me. Then one day during an awful argument, I realized that I married a wounded, broken, and wonderful person (and so did my husband). That's why it's problematic to marry for security or comfort: No relationship is 100 percent safe or predictable. Humans are imperfect and therefore incapable of offering us perfect behavior all the time. This makes marriage risky, and you have to be willing to work on maintaining trust and finding comfort through all sorts of hard times.
4. You will have to deal with all those issues you tried ignoring for 28 (or however many) years.
I'm a control freak. I'm selfish. I'm insecure. And before getting married, I had no real incentive to actually deal with any of my issues. In fact, I had gotten really good at pretending my issues are actually non-issues. (Did I mention that another issue I have is perfectionism?)
Well, now I have a husband—someone who reminds me on a daily basis when I'm being crazy/driving him crazy. Now I get it: My husband needs me to work on my issues because so many of my decisions, large and small, affect him. For instance, when I regularly go to Bikram yoga, write in my journal, and go to therapy, I am indirectly showing my love for him and making our marriage better. Being a crappy version of ourselves will only result in a crappy marriage for the both of us. So we love each other enough to both work on our issues.
5. You will never laugh so much in your life.
Laughter is probably the best part of my marriage because I'm married to one of the funniest men alive. And on the days we really struggle, it's good to know we always have our sense of humor to rely on. Laughter can be the greatest medicine, if we let it. I just might end up with a laughter-induced six-pack by our golden anniversary.
6. Being good to him starts with listening to him.
In relationships, seek to love more than you seek to be loved. Before my wedding day I thought I would be good at this, but a year of marriage has shown me otherwise.
Being good to my husband doesn't mean treating him how I think he wants to be treated, or even how I want to be treated. Being good to my husband means treating him as he wants to be treated. And the only way to know that is by listening to him—and I mean REALLY listening to him.
Since I can't go back and tell my single self all these tips, at least I can tell you. It's taken me a year to learn some of these lessons and others I'm still working on. I love my husband. Most days, I think he's the cat's pajamas. Still, I would have never guessed how difficult being married to him would be.
Whether we want to admit it or not, I think the first year or so is hard for a lot of people. No one fully knows what she's getting into when she gets married, and I think that's part of the beauty of marriage. Each day two wounded, broken, and wonderful people get a chance to recommit, regardless of what happened the day before. It's nothing short of a leap of faith. So each day I leap, trusting that my husband will not catch me but rather leap with me. We've definitely got our work cut out for us. But I'm grateful to be with someone who seems up to the challenge.
They say dog is man's best friend, but the relationship between a guy and his couch is a truly special one. It's where we plant our asses most of the time when we're home — it's there for you to lay on when you're sick and nursing a hangover, and it's there for you and your buddies when you're playing video games or watching "WrestleMania" on PPV.
Most importantly, your couch is your own personal storage space, even if you don't realize it, holding on to all that stuff you misplace under its cushions like a disgusting micro-fiber vault. Here are the 10 things you're almost guaranteed to find in the piece of furniture that's got your back.
1. The Remote Control
You've looked everywhere for it, but in the back of your mind, you knew it was there all along. The remote control knows where it's loved, and that place is nice and cozy between the cushions. Always look there first, but still check the fridge just in case, you drunk.
2. Enough Change To Do Laundry
…or to buy lunch, or maybe even pay the rent. It's not like you're coming home and throwing money at your couch like a piggy bank, but somehow it always ends up under there. Too bad the couch doesn't pay interest, because you could be making serious bank with all the coinage you've been sitting on.
3. Enough Breadcrumbs For Fried Chicken
Haven't you ever heard of plates? Do you think the couch needs to eat? Or did you just want to give the mouse family something extra? The weird thing is that there are so many breadcrumbs. Maybe the conditions are so right under the cushions that they come to life and multiply — someone should tell NASA.
4. Candy Bar Wrappers
Either you or the couch is gonna have type 2 diabetes — don't expect those chocolate smears to ever come out. The garbage is so close, dude.
5. The Mail
Wonder why the electricity was turned off? Or why there's no hot water? I thought we were friends, couch! Maybe it sees how upset bills make us and hides them so we'll be happy. Just don't hide the birthday cards filled with money, OK?
6. Pens
Even if the couch doesn't swallow all your bills, good luck paying them without a pen. Over the years, your sofa has amassed more writing utensils than the average school district. No wonder there's an education crisis.
7. Old Dirty Socks
You fall asleep on the couch wearing socks, you wake up wearing only one sock and you don't even question it. Sometimes you wake up with no socks. If and when you find a crusty old sock between the cushions, just throw it away — your memory ain't so great, and that crust might be your ancient dried shame.
8. Condom Wrappers
Now this is what I'm talking 'bout, baby! This is also the reason you should never sit on another guy's couch — the wrapper might not be the only thing he deposited down there.
9. One Whole Tortilla Chip
Why is it always just one? And why do you still always eat it if no one is looking?
10. That Girl's Panties
You know the one. Hell yeah!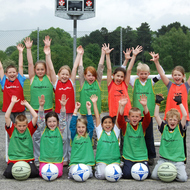 It's no secret that millions of American kids are out there playing sports. In fact, as many as 35 million American kids are playing organized sports every year.
We all know that participating in team activities can be a wonderful for our kids. The hope is that they learn both individual and team-building skills -- while getting some exercise! Along the way, that team participation may even lead to the development of a life-long interest, new friends and social opportunities.
Every step of the way, while your kids are up at bat or sitting on the bench, there are coaches who make it all possible. Ever wonder what they would tell you about how your behavior affects your kid's performance and enjoyment level? To find out, I interviewed someone who coached both boys' and girls' sports for 15 years. Wow, did I get a lot of good information!
Here is what Dan Madieros of California had to tell me. (Thank you, Coach!). The coach tells me that he and many of his colleagues wish parents would:
1. Cheer (but don't call the ump a chump)
Yes, it is perfectly fine for you to cheer your kids on, but it is not OK to scream at the other team or at the umpire. You should be modeling good sportsmanship and displaying positive energy. After all, you are your kids' most important role model. Please don't forget this.
2. Let there be one coach only
Please do not give your kids' instructions during the game. This is the job of the coach. You may very well confuse your children by giving them a second set of instructions. Please, dear parents, let the coach do his or her job.
3. Keep kids in the game
If you can avoid it, try not to remove your kids from the game before it is over. This can be disruptive to the team and interfere with the whole concept of teamwork.
4. Let the good times roll
Let your kids have fun and please refrain from acting like the outcome of the game is a matter of life or death. The most important thing that is happening on the field is that your kid is having a good time. Please don't turn it into yet another arena for pressure.
5. Play nice (in the stands)
Your kids do want you to attend their games, but they don't want you and your ex to be fighting in the stands. Please spare your kids this embarrassment and humiliation.
The overall message is that your kids love having you watch their games. They will love you even more if you do it more quietly and cheerfully. Let's go team!
Five Disgusting Things That Are On You Right Now
Basically, you're covered in filth and organisms RIGHT NOW. Experts can confirm that there is a ton of gross stuff ALL OVER YOU.
Here's a list of five gross things that are ON YOU, that are too small to see:
1. Eyelash mites. These are basically tiny spiders that feed off the secretions in your eyelash follicles. They INCREASE as you get older, and you can't get rid of them. But doctors say they won't hurt you.
2. Fecal residue. Scientists say that no matter how great you wipe, you never get it all. And it transfers to your underwear. You have to wash them in hot water if you actually want them clean.
3. Dead skin and dead-skin eaters. The top layer of your skin is made entirely out of dead skin cells. Most of the dust in your house is actually dead skin, and dust mites eat it. Sometimes they even crawl ON you to eat it.
4. Toenail fungus. You can think of your nails as tiny petri dishes that harbor MILLIONS of organisms.
5. Belly button bacteria. Basically, your navel is a laboratory for bacteria. In a recent study, scientists found 2,000 different species in belly buttons. Most of which they couldn't even identify.