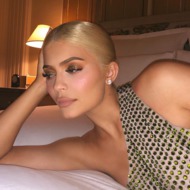 Kylie Jenner allegedly snatched another company's sparkle, and now they are going after the reality star to try and shut her down.
A company called Sheree Cosmetics just filed a lawsuit against Kylie Comsetics, and Kylie Jenner personally, accusing the makeup mogul of copying their popular "Born to Sparkle" cosmetics line.
Sheree said they have been selling their own "Born to Sparkle" and "Born to Be Iconic" lines since November 2017, and applied for a trademark in August 2018.
Kylie also debuted her sparkle line in August as part of her birthday collection.
Sheree says that Kylie is copying the look and vibe of their line, right down to the packaging. Sheree says it "Packages its products with inherently distinctive packaging, including the imprinting of quotations."
They claim that Kylie's "Born to Sparkle" line is a dead-ringer, and that her company has "Created their own products with the imprinting of quotations, creating a likelihood of confusion in the minds of potential customers as to the source, affiliation, or sponsorship."