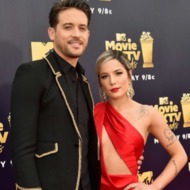 "It's over again for now," says the source. "He was partying over the weekend and girls were all over him. He didn't care who saw."
Reps for both stars did not respond to requests for comment.
Over the weekend, the musicians unfollowed each other on social media. Despite their latest setback, the rapper, 29, gushed about his "Him & I" collaborator at 97.1 AMP RADIO's 6th Annual We Can Survive concert.
"She's really inspiring to watch work, you know what I mean?" he told E! News. "I've been blessed and fortunate enough to get in the studio with a lot of artists that I admire, but she's one of those that when you hear her voice come through live from the booth, it's one of those, it just hits you right away. It's pure."