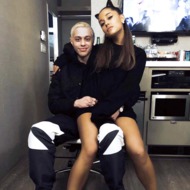 Fans may be shocked about Ariana Grande and Pete Davidson's breakup, but sources tell PEOPLE their inner circles are "relieved" that their months-long engagement is over.
"She threw herself into the relationship with Pete. She is young, but at least mature enough to realize this wasn't the right relationship or the right time to get married," an insider says.
"[Her loved ones] always thought the engagement to Pete happened way too quickly. They didn't want her to get married to Pete. And Ariana never got to the wedding planning stage. It was all way too soon," the insider shares.
"Ariana has had several stressful situations in the past couple of years. She really isn't in a position to make huge life decisions. Her family thinks she should just focus on work and not stress about other stuff," the insider says.
"Pete's no longer at the house because why would he be? They broke up. He has no reason to go there," says another insider. "Everyone on both sides are relieved it's over."