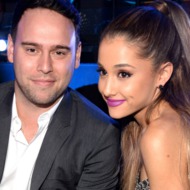 Scooter Braun's longtime relationship with client Ariana Grande once took a turn thanks to one of her "s—-y boyfriends."
The talent manager — who reps Grande as well as Justin Bieber, Carly Rae Jepsen, Dan + Shay, Tori Kelly and more — revealed during a talk at Fast Company's Innovation Festival on Tuesday that Grande actually fired him in early 2016 due to a then-romance, Variety reported.
While he didn't name names as to who Grande was dating at the time, Braun, 37, said he made the choice back then to wait for Grande to see the light.
"I could have said a lot of stuff, and in fact my team wanted me to, because they were so p—–. But I said, 'We're not gonna say a word, and this is gonna come back around,' " Braun explained, Variety reported. "They were like, 'Never take her back!,' and I just said, 'Let's stay quiet and let our truth be our actions.' "
Eventually, Grande did — but only after her relationship ended.
"When the s—-y boyfriends leave, she starts to see the light on some stuff," Braun said. "And one day I got a phone call. She said, 'Can I see you tomorrow?' and I said, 'No, I'm busy' — I actually couldn't, so I said, 'I could see you Thursday' or whatever and I went over there and we had a very honest conversation."
Grande, 25, has been in a few high-profile relationships since her time in the spotlight, including Big Sean, Mac Miller, and most recently, former fiancé Pete Davidson.