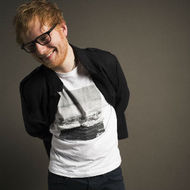 Ed Sheeran often auctions off his personal possessions to raise money for a local hospice in his hometown. One such auction is taking place 
November 10
 and one of the most unusual items going on the block is a
 pair of Ed's underwear.
The grey boxer shorts, which have the words "aka sexy bastard" printed on the elastic waist, are being offered for a starting bid of just over a hundred bucks, but they could fetch up to $192, perhaps more.  There is also a pair of black boxer shorts for sale, for the low, low price of about 25 bucks.
If underwear's a little too, um, intimate for you, Ed's also selling his sunglasses, some t-shirts, a wallet, a necklace, electronics, toys, his harmonica, sneakers, baseball caps, books, his bottle cap collection, and even his old trash can.
The more than 300 items have been donated by Ed's family after they cleaned out his old bedroom.  All proceeds will go directly to support a new initiative at the hospice to care for young adults who are living with progressive and terminal illnesses.
To get in on the fun, visit BishopandMillerAuctions.co.uk.