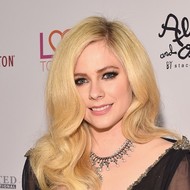 Avril Lavigne is finally addressing the conspiracies!
On Wednesday, the Canadian singer spoke with Kyle and Jackie O on Australia's KISS 1065 via phone, where they asked her for her thoughts on the elaborate theories that she's been dead for over a decade and was replaced by a doppelgänger who has carried on her career.
For a little background, this wild concept first took root around 2005 and held that the now-34-year-old wasn't happy with her fame and began using a body double to help her manage all her public engagements. The double's name was "Melissa." Whether this individual was believed to be an average girl who looked like the rocker or a clone designed to replace her is up for debate.
Per KIIS 1065, around 2003 the theory claims Lavigne died. However, news of her supposed death didn't get out and the execs at her record company decided to use this "Melissa" individual to stand in for the singer full time.
During the interview, Jackie asked, "What about, did you laugh at the rumors that went around where you no longer exist and there's a clone of you?"
"Yeah, some people think that I'm not the real me, which is so weird!" the singer responded. "Like, why would they even think that?" Although it's not a solid "no," it doesn't sound like she's spending much time worrying about her supposed clone, "Melissa."