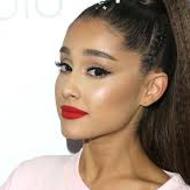 Ricky Alvarez and Big Sean each got to listen to "thank u, next" early, according to Ariana Grande. Hours before Saturday Night Live's Nov. 3 episode aired on NBC, the pop star surprised fans by releasing a new song that directly addressed her famous former flames. Given that the song was seemingly written after Ariana ended her whirlwind engagement to Pete Davidson Oct. 14, it seems unlikely her ex Mac Miller was able to hear the track before his death Sept. 7.
In the first verse, the 25-year-old diva sings, "Thought I'd end up with Sean / But he wasn't a match / Wrote some songs about Ricky / Now I listen and laugh / Even almost got married / And for Pete, I'm so thankful / Wish I could say 'thank you' to Malcolm / 'Cause he was an angel."
After a fan joked on Twitter that two of Ariana's exes might be surprised to hear their names dropped in her latest single, she responded Sunday, writing, "They heard it before it came out."
None of Ariana's exes have commented on the song, however.
Ariana previously told fans "thank u, next" is not a diss track. "One taught me love / One taught me patience / And one taught me pain / Now I'm so amazing / Say I've loved and I' ve lost / But that's not what I see / So look what I got / Look what you taught me / And for that I say / Thank u, next / Thank u, next / Thank u, next," she sings in the chorus. "I'm so f–king grateful for my ex."
At the MTV European Music Awards Sunday, Camila Cabello commented on Ariana's confessional track. "I love that she's just going for happiness. I love her. She's been nothing but an incredible friend to me," Cabello said. "I just love her and want her to be happy, you know?" Meanwhile, Halsey texted her right after the song came out: "I was like, 'Thank you for this song. Thank you. I love it.' She took that situation and she flipped it right around. I'm like, 'Yas!'"

Pete did not address the song on SNL, but he did mention their breakup during a "Weekend Update" appearance. "I know some of you are curious about the breakup, but the truth is, it's nobody's business," Pete told viewers. "And sometimes things just don't work out, and that's OK. She's a wonderful, strong person, and I genuinely wish her all the happiness in the world."
After "thank u, next," shot to the top of the iTunes charts Sunday, Ariana expressed her gratitude via Twitter. "thank u for hearing me and for making me feel so not alone," she told her 58.7 million followers. "i truly am grateful. no matter how painful! i'm thankful and i love u."

According to Ariana, at its core, "thank u, next" is about growth and self-love. At one point in the song, she sings, "Plus I met someone else / We havin' better discussions / I know they say I move on too fast / But this one gon' last / 'Cause her name is Ari / And I'm so good with that."