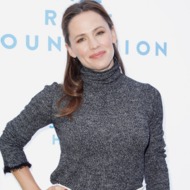 Jennifer Garner almost had a major fashion faux pas at her church.
The 46-year-old actress opened up about the incident in which she revealed she almost gave people a full view of her underwear in this week's issue of PEOPLE.
"My skirt got caught in my panties at church a couple of weeks ago and I almost walked into the congregation after going to the restroom with full biscuit showing," Garner said.
Despite the near miss, the Camping actress said she caught herself in time before stepping any further.
"Luckily I felt a breeze pretty quickly," the mother of three explained.