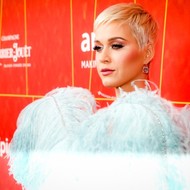 The New York judge overseeing the defamation lawsuit brought by Lukasz "Dr. Luke" Gottwald against Kesha Sebert has denied a motion from Katy Perry to keep the full transcript of the deposition she gave from being made public.
"Significantly, the testimony is relevant to several important factual and legal issues (such as causation of damages)," wrote New York Supreme Court Justice Jennifer Schecter in a short order on Thursday. "Thus, there is a legitimate public interest in access."
The litigation is now at the summary judgment phase, where Dr. Luke and Kesha are squaring off on her allegations of rape. He claims being smeared via an alleged effort on her part to cause a renegotiation of a record contract. Most of the documents are under seal, but those should become public very soon after a series of decisions today about what would remain confidential.
A small portion of Perry's deposition went public in late August. Perry (real name: Katheryn Hudson) denied being assaulted by Dr. Luke, but most of what she had to say had been redacted.
Other requests for sealing such as Kesha's bid to keep medical information private were granted, although Sony's demand to keep financial information outside of pubic view scored a caveat from the judge.
Schecter noted that there was no opposition from Dr. Luke or Kesha to Sony's request to keep private business and strategic information. But the judge added, "However, as damages will be a major topic if this case goes to trial, it appears doubtful that this information could remain sealed at that time. Sony, of course, will have the opportunity to convince the Court otherwise."