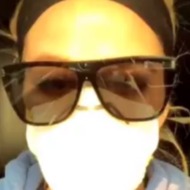 Khloé Kardashian shared a video on Saturday, November 10, showing her picking up supplies for firefighters battling the Woolsey fire threatening Malibu, Calabasas and other parts of Southern California.
The reality TV star, 34, posted a series of clips on her Instagram Story showing her wearing a mask over her face due to the heavy smoke.
"I am at the CVS in the Commons, because I had to get a couple things at the house, and I am going to post this request from what the fire department needs and whoever can drop off whatever they can any little bit helps," she said. "Here at CVS, I basically got everything they had in stock. I got as many waters as I could."
"I know the brave men and women that are working so hard, tirelessly for all of us will greatly appreciate it. So please just do whatever you can, even if it's one bottle of water, one container of eye drops, one granola bar, anything. I know they would appreciate it," she continued. "I love everyone. Stay safe and god bless."
She shared the list of needed items — including water, eye drops, beef jerky and energy drinks — on her Instagram Story and posted another video after dropping off her donation. "It is getting a little scarier out here," she said as she sat in her car. "It looks like things are picking up again, which is scary, but everyone stay safe and just, this reminds you of what's important."
Her mom, Kris Jenner, responded to Kardashian's gesture, tweeting, "After @kyliejenner sent this on our group text @khloekardashian ran to the pharmacy to shop for the Firefighters… such a huge heart Bunny!! Let's take care of our guys! Thank you to all of the men and women fighting these fires and risking their lives…"
Kardashian posted on Friday, November 9, about being forced to evacuate her Calabasas home with 6-month-old daughter True Thompson.
"I just left with the clothes on my back but I think I packed Trues entire bedroom and closet into my car obviously she's all that matters to me," she tweeted, later updating fans to let them know she was with her brother, Rob Kardashian, and his 2-year-old daughter, Dream.
Kim Kardashian and Kanye West also evacuated their home on Friday with the mother of three posting that she'd "heard the flames have hit our property at our home in Hidden Hills but now are more contained and have stopped at the moment. It doesn't seems like it is getting worse right now, I just pray the winds are in our favor. God is good. I'm just praying everyone else is safe."