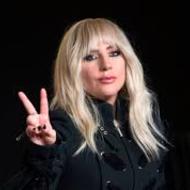 Lady Gaga was evacuated from her Malibu home amid the raging Woolsey fire, but she still made time to give back to other displaced residents in need.
The singer showed up at a Red Cross shelter at Pacific Palisades High School Sunday evening to lift the spirits of fellow evacuees.  In a video obtained by TMZ, Gaga tells the crowd, "I extend my love. I know we do not know each other, but I love you. This is an emergency, but you are not alone."
She encourages everyone to take advantage of the mental health counselors on site and to share their stories. "Let's keep the faith, together," she says.
Gaga reportedly spent about 90 minutes at the shelter — taking photos, handing out gift cards and even singing to a 98-year-old woman who had been evacuated.
TMZ reports that so far Gaga's home has survived the blaze.