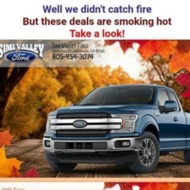 A Ford dealership in California has been hit with a barrage of criticism over a tone deaf ad which tried to make light of the deadly wildfires ravaging the state.
The ad, which was published by the company's Simi Valley dealership on November 11, read: 'Well we didn't catch fire but these deals are smoking hot. Take a look!'
It was slammed on Twitter as 'disgusting' and 'distasteful'.
The dealership published another post later in an attempt to apologize.
It read: 'Hello Friends, Our advertising team picked a heading for this week's campaign that appears to be insensitive to some.' It linked to a Facebook page which has since been removed.
On Tuesday morning, a spokesman for the dealership told DailyMail.com: 'Recently, we expressed ourselves in a way that does not reflect our values.
'We are sorry. Simi Valley is our home and, like all of us who live here, we will continue to assist during these difficult times.'
The dealership sits just to the north of the Woolsey Fire Perimeter and northeast of the Hill fire.