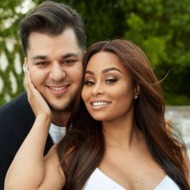 Rob Kardashian reportedly wants to make a few changes to his child support agreement with ex Blac Chyna.
According to The Blast, the former couple is locked in a legal battle over child support payments for their 2-year-old daughter Dream.
Kardashian claims he "can no longer afford" his $20,000 per month payments and is asking for a modification. He also claims that his volatile relationship with Chyna and the domestic violence restraining order she filed last year has damaged his career and is keeping him from earning money.
According to the outlet, Kardashian claims he stopped participating in Keeping Up with the Kardashians after his relationship with Chyna turned sour.
"I have not participated in the filming of any episodes since this summer when [Chyna] filed a request for a restraining order against me," he says in the declaration, according to The Blast. "Her request was widely publicized and I was scrutinized by the media."
He continues, "It has been an extraordinarily difficult time for me emotionally and I have no desire to continue participating in the reality show. I would like to maintain my privacy, try to recover from the emotional damage of the past several months, and explore other business ventures."
He reportedly says in the documents that his monthly income has dwindled from nearly $100,000 a month to less than $10,000 since their split.
Meanwhile, Kardashian claims Chyna's career only benefited from the media attention surrounding their relationship and that her net worth has risen. Based on financial records, Chyna is allegedly worth over $1.4 million.
"She has appeared in the press and on social media to discuss both cases at every opportunity," he says in his declaration.
He claims Chyna's monthly income is nearly $60,000 per month.
Kardashian is now asking that Chyna pay him support. His lawyers estimate he should collect $2,864 for his 50/50 custody of Dream.
Chyna objected to Kardashian's request to modify child support and accused him of "manipulating" his financial situation, according to The Blast.
All child support obligations have been suspended while the stars work toward an agreement. Both sides have been asked to hand over several financial documents.
The two are reportedly scheduled to meet with a judge in December.
The Blast reports that he previously earned a minimum $1 million salary from the show, but in 2018 he was only paid $50,000 per each episode he actually appeared in. He is allegedly not contractually obligated to appear in show.