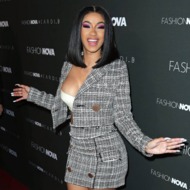 Cardi B celebrated her official Fashion Nova collection drop with a massive Los Angeles party at Boulevard3 Wednesday night. And the rapper's two wishes for the line already came true: A Kardashian wore it (to her party!) and all 82 styles have already sold out.
The 26-year-old music star, who famously preaches "I could buy designer, but this Fashion Nova fit" in her mega hit "She Bad," told PEOPLE on the carpet that she hopes to see everyone from the "Bardashians" to Rihanna in her line.
"The Bardashians, Rihanna, artists, a whole bunch of Instagram models, my fans… I want to see everyone wear it," she said.
For the rapper, collaborating with the brand was a "natural fit."
"I've been to the Fashion Nova offices. I've seen what they do. I like how they work," she shared. "I like how fast they sell things out. I like how organized they are. I like how they catered to me. Everything I asked them to do they did. I feel like the line grew and I grew at the same time."
Cardi told BET that dropping the fashion line was like "premiering an album."
"It's a new milestone in your life. Something you wanted to do and dreamed about and now your dreams are coming true," she shared, adding that she studied the looks and made sure everything was "on point" before the pieces dropped.