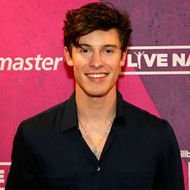 Since Shawn Mendes often performs to massive crowds at huge venues around the world, you'd think his biggest fear might be stage fright, or losing his voice, but according to Shawn, what he's most afraid of is being onstage and having to go to the bathroom.
At a panel during Billboard's Live Music Summit, Shawn was asked, "What's the last thing you do before you go onstage?" Shawn replied, "Pee…like, 10 times!"
As the crowd laughed, Shawn explained, "I'm so worried I'm gonna have to pee so bad onstage, so I'm running back and forth before the show…It's actually a really big fear of mine!"  He revealed that it actually happened to him once, and he found it so distracting that he swore he'd never let it happen again.
Also during the panel, Shawn revealed that his favorite song to perform is his latest hit, "In My Blood."
"I wrote it…after seeing [the band Kings of Leon] live and being like, 'This is what music is. This is live, drums, people are clapping, it's this big chant, this big anthem,'" he told the audience.
"We do this thing at the end where we get the whole crowd singing the big anthem chant, and…I've decided I'm not gonna [be able to] beat that feeling."
That's just one way that Shawn says he connects with his audiences.  As he told the crowd, "Onstage, there's this massive wall, and if you can't break down the wall, nobody's gonna feel that connection."
He added, "So the second you get onstage, you have to smash this wall and it becomes this breathing thing — it's a live thing that happens. It's special."
Billboard has named Shawn its 2018 Live Music Artist of the Year.