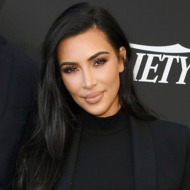 Kim Kardashian got candid about how her life has changed since she was robbed at gunpoint in Paris more than two years ago during an interview with Van Jones on Wednesday, November 14.
"I felt like taking myself out of being the victim myself," the reality star, 38, told the CNN news commentator, 50, during the Variety/Rolling Stone's Criminal Justice Reform Summit in West Hollywood. "I never have a victim mentality. I'm not saying that if that's how you cope, that's not appropriate. I'm just saying for me personally, I have never taken that on."
The KKW Beauty founder continued: "I just try to really genuinely learn. And I feel like the way I was living my lifestyle, not that anyone should go through that, but, like, I learned so much from it that I'm OK with my experience. And I do believe it was meant to happen to me. I am a different person because of it."
As for how her outlook on life has altered since then, Kardashian noted that "when you become a mom, you change anyway.
"I think when your life is at stake over material items. All of that stuff goes out the door. None of it matters," the Selfish author explained. "My priorities completely changed. What's important to me changes, my whole life changed. I'm a better mom because of it. The things I will teach my kids."