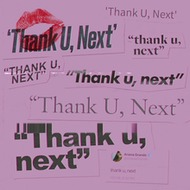 So far, Ariana Grande has only released a lyric video for her #1 smash, "thank u, next" — but another one is coming.
Ariana tweeted a message to fans on Sunday thanking them for making "than u, next" platinum," and adding a promise.  It reads, "Thank u, next" officially platinum. Don't worry…you're still getting a video."
Meanwhile, fans keep asking Ari to release her new album.  To the latest plea, she responded, "i love u and i'm working on it she's on [her] way."
And when fans asked Ariana to release another new song from the project, she responded, "i'm not dropping another song yet i have seven hundred out at once stream thank u next, breathin and god is a woman to celebrate."
There's still no official release date for Ari's new album, which will be her second release of 2018, following Sweetener.