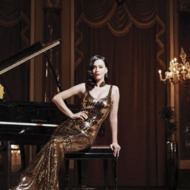 Beyoncé dropped from number one to number three on the 
Forbes
 list of the highest-paid women in music, but it was still a very prosperous year for Queen Bey.
Beyoncé earned $60 million during the scoring period of June 1, 2017 through June 1, 2018, following Katy Perry with $93 million, and Taylor Swift with $80 million.
However, the money really started rolling in following the June 1 deadline, as Bey released the Everything Is Love album with husband JAY-Z, and also kicking off the On the Run II tour, which earned over $250 million. She'll probably rank higher on Forbes' list for 2019.
Jennifer Lopez' earnings increased from $38 million to $47 million, but she fell from number five to number six. J. Lo ended her very successful three-year residency at Planet Hollywood in Las Vegas in September.
Rihanna repeated at number seven on the list, earning $37.5 million. Her fashion businesses, Fenty Beauty and Savage X Fenty Lingerie, continued to thrive this year, and she also starred in Ocean's 8.
Forbes' 2018 list of highest paid women in music:
1. Katy Perry ($83 million)
2. Taylor Swift ($80 million)
3. Beyoncé ($60 million)
4. Pink ($52 million)
5. Lady Gaga ($50 million)
6. Jennifer Lopez ($47 million)
7. Rihanna ($37.5 million)
8. Helene Fischer [Russian-German singer] ($32 million)
9. Celine Dion ($31 million)
10. Britney Spears ($30 million)