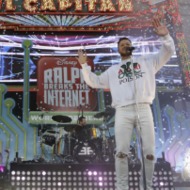 Your Thanksgiving will feature a side dish of Imagine Dragons if you see the new movie Ralph Breaks the Internet, the sequel to the 2012 animated Disney hit Wreck-It Ralph. Dan Reynolds and company wrote their new song "Zero" for the film, which opens in theaters this Wednesday.
Speaking with ABC Radio, Ralph Breaks the Internet executive music producer Tom MacDougall describes what made Imagine Dragons the right band for the movie.
"Whether it be the sort of fun nature of the band, but with an emotional core…I can't quite put my finger on it," MacDougall says. "But I think when audiences see this movie and how the end of the movie plays and then right into their song, it feels like Ralph Breaks the Internet to me."
"Zero" in particular, MacDougall says, reflects the themes of the film, which finds video game characters Ralph, voiced by John C. Reilly, and Sarah Silverman's Vanellope venturing outside their arcade home and into the online world.
"Dan's a very thoughtful guy, and the band are, too," MacDougall says of the "Thunder" rockers. " And they don't anything just on assignment, so everything they do has some personal connection."
He explains, "So with this movie, where Ralph is kinda doubting his whole existence and his relationship with Vanellope, I think Dan and the guys really mined those emotions and tried to figure out how they could sort of relate their life and their experiences to what Ralph was feeling."
That personal connection, MacDougall believes, is what makes "Zero" so special.
"If an artist can make a personal connection to a song like they did with 'Zero,' then that's where the real magic happens," he says.