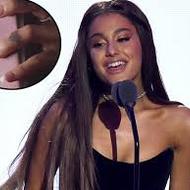 Ariana Grande and Pete Davidson were infamous for getting matching tattoos while together, but it looks like things haven't changed even after their split.
The ex-pair, who called things off in October, each showed off a new black heart tattoo recently — Davidson's ink behind his ear, Grande's on her left finger — both of which covered up former ink dedicated to each other.
Early on in their relationship, the Saturday Night Live star, 25, got a Playboy-inspired bunny ears mask (the one Grande wore on the cover of her Dangerous Woman album) tattooed on the left side of his neck.
But just days before they announced their split, Davidson had covered the ink with a large black heart.
And on Friday, while teasing her upcoming "Thank U, Next" music video, Grande, 25, posted a photo to Instagram featuring her new ink: a black heart on her left ring finger.
The new design hid her cursive "Pete" tattoo, which she had debuted for her former fiancé at the end of June, but later covered with a band-aid days after breaking up.
The "No Tears Left to Cry" singer is known for using black hearts on social media, especially in the wake of her split. After a fan asked Grande if the symbol had a hidden meaning, the pop star simply stated that it was because she was feeling "empty."
"jk i'm empty and my heart is black now so," she tweeted on Nov. 15.
Davidson and Grande have a total of five shared designs and nine total tattoos inspired by their whirlwind romance.
The former couple also shared clouds on their finger, the quote "mille tendresse" from the 1961 film Breakfast at Tiffany's on the backs of their necks, and "8418" in honor of Davidson's late father who died in 9/11 on the singer's ankle and the comedian's arm.
In addition, the pair had the word "reborn" and "H2GKMO" (an abbreviation of Grande's favorite saying, "Honest to God, knock me out") on their thumbs — which they got after getting engaged in June. Grande, however, has since covered the word with a feather.