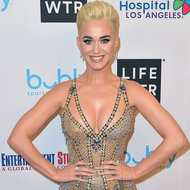 Following the destructive Woolsey Fire in Malibu, California, some big names are coming together for a festival to raise money to rebuilt the area.
The One Love Malibu Festival, scheduled for December 2, will feature Katy Perry, Gwen Stefani, Coldplay's Chris Martin, Robin Thicke, Natasha Bedingfield, Macy Gray and others.  In addition to musical performances, there will also be a live auction featuring unique items such as the opportunity to go on a motorcycle ride with Katy's boyfriend, Orlando Bloom.
The proceeds from the event, which will take place at One Gun Ranch in Malibu, will go to care for animals who were evacuated, and people who are most in need following the fires, including the uninsured and those living paycheck to paycheck.  Proceeds will also help rebuild Malibu and support "proper wildfire prevention and land stewardship initiatives."
According to the organizers, the Woolsey Fire, which started November 9, destroyed 1,500 structures, displaced 250,000 people and destroyed 89% of the Santa Monica mountains.
Get tickets at OneLoveRanchMalibu.com.