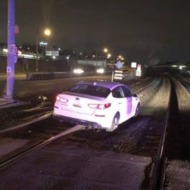 Duquesne, PA — A woman learned the limits of GPS Wednesday when she turned off a road onto railway tracks and got stuck there—parallel to the tracks, USA Today reports. To make matters worse, cops gave her a ticket. "The GPS told me to do it…" quipped the City of Duquesne Police Department in a Facebook post about her driving mishap.
Seems police found her white sedan at about 10pm stuck along the tracks and said "the female was 100% sober and had no medical conditions affecting her decision-making. The vehicle was towed from the scene and the driver was cited for careless driving."
As WFLA notes, police made clear in the comments section that she hadn't turned onto a road by the tracks. "Just to be clear," the department writes. "This vehicle was going straight on a highway and veered off. There was no turn involved here."
Otherwise, the comments section is littered with people griping about that location ("seems like a common occurrence at that same spot"), GPS ("My GPS tells me wrong directions as well"), and the unlucky driver ("And I'll bet she votes").
The police didn't get off so easy either: "She was sober and the GPS directed her that way and instead of helping her the police did what????!!!??"