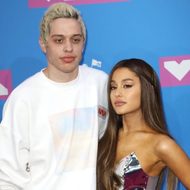 Pete Davidson can count on Scooter Braun to have his back!
After the Saturday Night Live star returned to Instagram on Wednesday to promote his new movie, Big Time Adolescence — his first post since his split from Ariana Grande — fans of the singer began flooding his comments section with messages of hate and negativity.
While some wrote things like "You're canceled" and "You're only famous because of Ari," others simply wrote, "Thank U, Next," referring to Grande's new smash hit in which she drops the names of Davidson and her other famous exes.
When Braun (who is Grande's manager) caught wind of the comments, he decided to weigh in and urge fans to "stop the bulls**t."
"It is nothing like that and Pete is a good dude," Braun explained. "No one has hate for this guy and he is a stand up guy. Show respect because trust me, everyone on this side knows he deserves it and wishes him well."