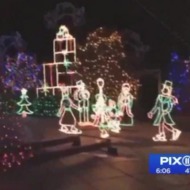 Old Bridge, NJ — A New Jersey couple said city officials told them they would be charged $50,000 for continuing their 15-year tradition of extravagant Christmas light displays.
Tom and Kris Apruzzi said they spend three months each year meticulously setting up the more than 300,000 lights decorating their Old Bridge home for the holidays, but officials are now trying to charge them $50,000 to continue their 15-year tradition.
"We had a meeting with the Mayor and the Chief of Police the other night and they blatantly told us that this is what you will pay in order to put this Christmas light display on this year" Kris Apruzzi told WPIX-TV.
The couple said they were told the cost, which amounts to $2,000 per day that the lights would be illuminated, would go toward police security and bus transportation to reduce the traffic that the light show brings in each year.
The Apruzzis said they are trying to crowdfund to cover the cost, but they are planning to start the light show Dec. 1 whether or not they meet their goal.
"I'm not taking it down," Tom Apruzzi said. "It's my religious right and my first amendment right. I do this for the veterans and everything else like that. If people have a problem with that, I can't say anything about it. There are people that are going to be happy, and there are always people that are going to be unhappy."