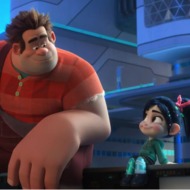 With only one major new release to contend with — Sony's horror film The Possession of Hannah Grace — Disney's candy-colored Wreck-It Ralph sequel is on pace to sell an estimated $25.8 million in tickets at 4,017 theaters in the U.S. and Canada from Friday through Sunday, topping the chart and holding off The Grinch and Creed II.
After helping to power the biggest Thanksgiving box office on record, Ralph will decline about 54 percent over its second frame (a respectable figure), bringing its North American total to $119.3 million. Overseas, it will add about $33.7 million this weekend, for a worldwide total of $207 million.
Reviews have been favorable for the film, which stars John C. Reilly and Sarah Silverman as two pixelated pals who venture into cyberspace for the first time. Moviegoers gave it an A-minus CinemaScore.
Filling out the top five are Universal's animated Dr. Seuss tale The Grinch, with about $17.7 million; MGM's Rocky film Creed II, with about $16.8 million; Warner Bros.' wizarding world adventure Fantastic Beasts: The Crimes of Grindelwald, with about $11.2 million; and Fox's Queen biopic Bohemian Rhapsody, with about $8.1 million.
The Possession of Hannah Grace will debut in the No. 7 spot, earning an estimated $6.5 million at 3,148 North American theaters. The opening is on par with expectations for the film, which reportedly cost less than $10 million to make.
Overall box office is up 10.1 percent year-to-date, according to Comscore. See the Nov. 30-Dec. 2 figures below.
1. Ralph Breaks the Internet — $25.8 million
2. The Grinch — $17.7 million
3. Creed II — $16.8 million
4. Fantastic Beasts: The Crimes of Grindelwald — $11.2 million
5. Bohemian Rhapsody — $8.1 million
6. Instant Family — $7.2 million
7. The Possession of Hannah Grace — $6.5 million
8. Robin Hood — $4.7 million
9. Widows — $4.4 million
10. Green Book — $3.9 million