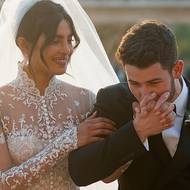 When it came time to create her dream wedding dress, Priyanka Chopra turned to a designer who was there for the beginning of her love story with Nick Jonas: industry icon Ralph Lauren.
The legendary fashion powerhouse worked closely with Chopra, 36, to design the gown she wore to marry Jonas, 26, during the couple's Western Ceremony on Saturday in Jodhpur, India. And for the bride, working with the team at Ralph Lauren was very sentimental.
"They're so much a part of our love story for obvious reasons," Chopra tells PEOPLE in the latest cover story, referencing the early days of the couple's relationship when they attended the 2017 Met Gala together as guests of the designer.
"For the Western wedding, we had been talking to a bunch of incredible designers, but ultimately when Ralph Lauren approached us, I learned that Ralph has only designed three wedding dresses in 50 years — one for his daughter, his daughter in law, and his niece," Chopra explains, adding, "I was blown away."
Lauren met with Chopra to hand-deliver the sketch for the dress, and it was love at first sight.
"When we went in for the sketch presentation, they created exactly what I envisioned for myself on my wedding day… and I said, 'Yes' to the dress," she tells PEOPLE.
Chopra wore a hand-beaded and hand-embroidered dress featuring floral and scroll motifs, lace-effect tulle appliqués, scalloped sleeves and a high-neck collar. The embroidery took a total of 1,826 hours to complete, according to the brand.
And the intricate details didn't stop there. Underneath the long-sleeve gown was a strapless column dress made up of 2,380,000 mother of pearl sequins. Chopra completed her look with long tulle veil that reached 75 feet and custom Jimmy Choo shoes.