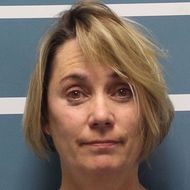 VISALIA, CA – A California teacher is behind bars with bail set at $100,000 after she allegedly followed through on what students thought was a teasing offer of "free haircuts."
Police were called to Visalia's University Preparatory High School on Wednesday in response to an Instagram video that appeared to show science teacher Margaret Gieszinger using scissors to chop off a student's hair during a first-period chemistry class. Hair flew amid the teacher's loud rendition of "The Star-Spangled Banner," per the Visalia Times-Delta, which adds Gieszinger stopped the male student as he tried to get away. "You're not done," she allegedly said, and continued cutting. Gieszinger then was said to have grabbed the hair of a female student before kids screamed and ran for the classroom door.
Two days earlier, Gieszinger had claimed students were responsible for a test that had gone missing, a parent tells the Times-Delta. "They asked for help from administrators on Monday but were told they had to go back to class," one parent says.
One student describes the behavior as out of character for the 52-year-old teacher, later arrested at her home on suspicion of felony child endangerment, per YourCentralValley.com. "Loving and kind," she's "usually all smiles and laughs. This is not the Miss G. we know and love," the student tells the Times-Delta. But: "I hope I never have to see her at the school again," another student tells KFSN. "I can never see her as a respectable authority figure in my life."
Gieszinger was handed two-week suspensions for unknown reasons in 2007 and 2016.